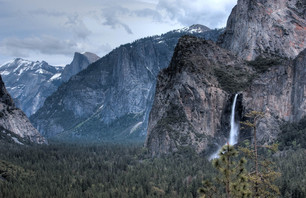 Photo: Flickr / David Morton
It seems pretty reasonable to assume that if you're going to take a photography workshop, it should probably be someplace you actually want to take photos.
Yosemite National Park will do nicely, thank you.
Photo: Flickr / David Morton
It turns out the nice folks at park guide publisher American Park Network and camera-makers Canon have again organized a series of digital photography workshops in the park twice a day from June 7 to June 28, led by professional photographers.
Not only are the workshops free, but the folks are Canon are supplying the "top-of-the-line Canon camera equipment at no charge" (because, it seems, they have a few cameras to spare). This last part is especially attractive if you tend to look at the scenery and forget to watch where you're walking.
Participants will be able to print free copies of the images they take and will also be able to download their photos from the Web for free, according to the sponsors. The only difficult part maybe figuring out where to find the class on a given day of the week.
Read the full details here, via SFGate.com. By Spud Hilton.