Photo: Leica-Camera.com
The perfect complement to your bulky DSLR, Leica's V-Lux 20 takes all the features you'll ever need, combines them with stunning design and high-quality pictures, all in a compact package perfect for any situation.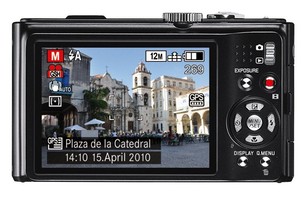 Photo: Leica-Camera.com
It's no secret that when it comes to looks, there isn't anything on the market that beats that vintage-inspired aesthetic of Leica; a timeless look that'll satisfy the harshest critic. Yet this isn't like the girls you pick up in the clubs, the V-Lux 20 has some serious brains inside that gorgeous case: high-performance 12x Super-zoom Leica DC-Vario-Elmar lens with a focal range from 25 -300 mm, ergonomically-positioned controls, 12.1 effective megapixel sensor, 720p HD movie recording, and integrated GPS tagging functionality to go with all the regular standard features you expect. Definitely an interesting option for the design-savvy amateur photographer.
Read the rest, and see more images, here. Via LimitedHype.com.