Photo: ReelRockTour.com
The REEL ROCK Film Tour kicks off on Tuesday, September 14 in Blacksburg, Virginia at Virginia Tech's Graduate Life Center Auditorium. This year REEL ROCK turns five, and co-founders Sender Films and Big UP Productions have around 90 premieres planned between now and February 2011 in North and South America, Europe and New Zealand. Prize giveaways, appearances by top climbers, and fundraising for non-profit organizations are always part of the party at REEL ROCK events.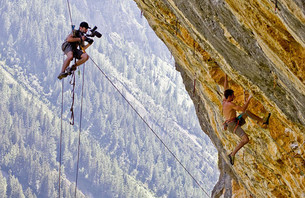 Photo: ReelRockTour.com
They're also doing an amateur filmmaking competition where two winners will be announced at the Boulder, Colorado premiere on September 16. Winners will receive prize packages from tour sponsors, and their films will screen during the 2010 tour. Voting ends September 10, and you can watch the final nine submissions here.
Check out the official 2010 trailer below, as well as selected film's for the tour.
About the 2010 Tour
From death-defying speed link-ups of the wildest faces in The Alps, to Olympian displays of strength and tenacity on the hardest boulders ever climbed, REEL ROCK 2010 features a breathtaking journey through the vertical realm with the heroes of rock and snow.
"First Round First Minute"
Since Chris Sharma moved to the sport climbing mecca of Catalunya, Spain, he's opened dozens of routes that are redefining high-end climbing. First Round First Minute gives an update on Sharma's latest 5.15 first ascents, and tells the story of his epic battle with his latest ongoing project.
"The Hardest Moves"
Daniel Woods and Paul Robinson compete to climb the hardest boulders ever scaled. An inside look at what it takes to push the difficulty envelope of this intense sport.
"Origins: The Hulk"
Peter Croft and Lisa Rands attempt a wild free ascent on the Incredible Hulk Wall in the Sierras -- arguably America's best (and least filmed) alpine rock wall. Croft, the most legendary of California's crack masters mentors the renowned boulderer Rands as she explores into alpine traditional climbing terrain.
"Down and Out, and Under"
A once-in-a-lifetime adventure expedition for first ascents in Australia and on the wild sea cliffs of outer Tasmania.
"Fly or Die"
Dean Potter continues his extreme vertical exploration, opening new freeBASE climbs, along with highline and wingsuit jumps in some of the most mind-blowing vertical footage ever captured.
"The Swiss Machine"
Ueli Steck may be the greatest speed alpinist the world has ever seen. In this film he tells the stories of his record-breaking ascents in the Alps, accompanied by stunning aerial footage of him racing up 8,000 foot alpine faces. Ueli joins Alex Honnold in Yosemite to attempt speed records there. His ultimate goal: take his one-man alpine speed game to the largest, highest walls in the world.