Photo: dropzone.com
When I started skydiving, round parachutes were the only parachutes available. Landing under a round canopy had a high straight-down component. Although Para Commanders had a noticeable forward speed under no wind conditions, landing in winds over 10 mph were again straight down.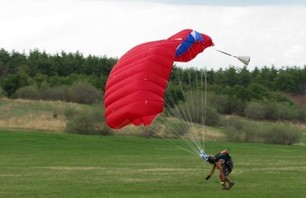 Photo: dropzone.com
Due to straight down landings most injuries were to the ankles because one tended to sit down on the ankles during a less than perfect timing of the landing techniques required by round parachutes.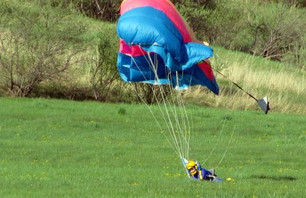 Photo: dropzone.com
Use of the Parachute Landing Fall (PLF) greatly reduced the extent and severity of landing injuries. Virtually all successful skydivers were experts at PLFs because not every landing was executed perfectly - no matter how many jumps one had, and sooner or later one had to land a round reserve.
In the classroom it required a block of at least two hours to teach landing the parachute, mostly because so much of the time was devoted to teaching an actual PLF. The complete PLF technique is not a natural, readily-apparent procedure.
During the actual jump about half of the students would perform a PLF, and the other half wouldn t - no matter how much time and practice was spent on PLFs.
The injury rate was quite high. About 1 in 20 first-jump students would suffer some type of ankle injury.
By Jack Guthrie, dropzone.com
Read more of this story, and see how it happens below.