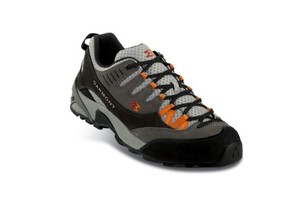 Photo: GarmontUSA.com
Garmont's Sticky Dragon is the newest shoe in their line of technical trail and approach shoes. It's billed as a hybrid between an approach shoe and a trail runner, due in part to the dual durometer midsole which allows for cushioning in the rear foot and a firmer forefoot.
After a quick break-in period, the Sticky Dragon performed as a stable, comfortable low-top trail shoe for dayhiking technical singeltrack and navigating around damp boulder fields. Can't speak on behalf of its trail running chops, although there was some scampering and bantering.