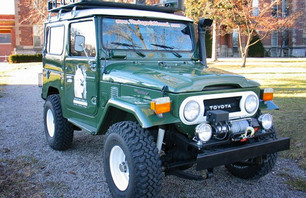 Photo: GearPatrol.com
Toyota FJ40 Gorilla SafariAching for a custom vintage SUV? Maybe you're even lucky enough to own one, but want to breathe some new life into it without committing to a complete overhaul or frame-up restoration.
Photo: VintageOffroad.com
1964 Land Rover 109 Safari WagonThe 10 year strong team at Vintage Offroad will get you into one of their specialties, vintage Toyota FJ40's (not the newfangled ones) with complete bumper-to-bumper warranties.
Photo: VintageOffroad.com
1993 Toyota RHD Troopy 75 Series DieselTheir beastly variation of the classic FJ40, the Gorilla Safari FJ40, is definitely a favorite. The build-to-order FJ40 can be customized with practically anything: stock inline-6, gas V8 or 4-cylinder eco-friendly biodiesel engine (25 to 30+ mpg), automatic or manual transmission, exterior accessories, interior, and paint color.
Read more here, via Gear Patrol.