Well known to the local Calgarians and global trail heads alike, Moose Mountain, Alberta contains some of the top mountain biking lines in the Banff region.
/
The primary resource for riding in the area is the Moose Mountain Bike Trail Society (MMBTS). Comprised of local bikers, the not-for-profit is dedicated to trail accessibility and supporting the local bike scene. You ll find maps, condition reports, trail descriptions and grades. (mmbts.com)
/
See for yourself with this video from Tyler Reid, where he charges Toothless - a snakey, tight tree line with technical speed shots. Loving the helmet cam.
/
Toothless - Moose Mountain from Tyler Reid on Vimeo.
/
And of course we can't leave you without some gratuitous eye candy.
/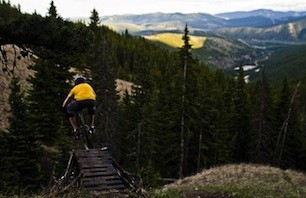 Photo: Tyler, MMBTS

Photo: Tyler, MMBTS