If you are planning to go a long way on the Great Divide Mountain Bike Route, you will depend a great deal on your gear.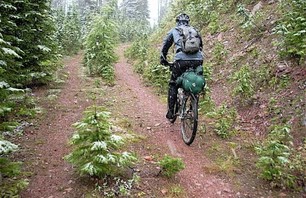 Photo: TourDivide.org
Richmond Peak Trail, Montana. The Great Divide Route
is the world's longest off-pavement cycling route.
There are few services such as bike shops, outdoor stores, hospitals, and commercial accommodations available on the route. Since there are few opportunities to purchase equipment or have repairs done, you will depend largely on what you bring with you.
Careful selection of equipment will pay off during the trip...
Photo: TourDivide.org
San Luis Valley, Colorado. Divide racers must not
only be conditioned to endure weeks of consecutive
16+ hour days in the saddle, they need to bring
other skills to the trail.
Bicycle Frame
Front Suspension
Rear Suspension
Wheels
Hubs
Tires
Trailers
Racks
Read the overview here, via Adventure Cycling Association. By Larry Diskin.